About Us
Death, dying, grief, bereavement. What comes to mind when you've lost someone? What to do for a loved one who has passed away? You've searched your heart and soul for an answer, but all you can see is a vision of your loved one.
In visits to cemeteries, Jonathan Yesbick was struck by the various techniques used to mount a visual likeness of the deceased on the gravestone itself. All too often the devices failed to withstand the ravages of the weather or of the mowers used by the groundskeepers. Most were partially broken or sun bleached, or executed in stilted hand tinted portraits.
Jonathan remembered his grandfather, William Pick, a successful inventor, telling him that, while solving problems gave him a sense of accomplishment, solving problems that helped others brought him an even greater personal reward. Jonathan decided to take on the challenge of producing a frame that would overcome all the obstacles he observed at numerous gravesites.
First he decided that keepsake photographs would be the most favored way to depict the deceased. But how to protect them from the elements? He experimented with different methods of encasing photographs within frames made of indestructible materials, then tested one bonding agent after another to seal them hermetically against the weather. In time he found that a door was the best method to protect a photograph against sunlight. And he added several coatings to keep out UV rays. The result was PERMAFRAME®.
Only PermaFrame depicts and preserves The Way We Were. Now PermaFrame comes in a variety of styles and prices. Whatever your need or taste, there is an entire collection to choose from. When Jonathan Yesbick designed the product line, he didn't forget your "special companions" either: PermaFrames are for all your loved ones -- including your pets.
More recently, the company has introduced PermaPorcelains, and entirely new line of visual reminders taking advantage of the marvelous technique of embedding a digital photograph under a clear porcelain coating on a handsome ceramic plaque. These beautiful photo ceramics are guaranteed to never fade. And they come in a fascinating array of shapes and size that must be seen to be appreciated.
We believe in PermaFrames and PermaPorcelains so strongly that we offer an Unconditional PermaFrame Guarantee. Please read it and ask us any questions you wish. And because we know that pictures of loved ones are often old and worn and sometimes damaged, we offer a top-of-the-line Restoration Service.
Our patented space-age technology makes PermaFrame the superior solution at a price virtually everyone can afford. PermaFrame is available through a worldwide network of over 10,000 dealers. Why not ask us about becoming one? And for any additional information or special requests, just call us at (800) 557-3762. Jonathan Yesbick and all of us at PermaFrame are ready to help you.
Most Frequently Asked Questions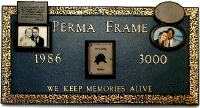 Please click on image to enlarge.
For the dealership nearest you, send email to info@permaframe.com