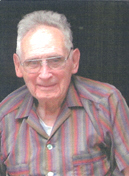 A self-taught engineer, inventor, husband, father, and grandfather, passed a way on July 26, 2002 in Paradise, California.
William enlisted in the Navy as a radio man at age 18 and rose to the rank of Warrant Officer after creating and patenting a procedure known as Inverse Loran which made it possible to locate enemy U-boats during World War II. Inverse Loran was kept top secret and classified information for 50 years. William recently received a "Congressional Recognition" for this accomplishment. William served 20 years in active duty in the Navy and 10 years in the navy reserves.
After living the Navy, William and his wife Dorothy lived in Downey, CA. In the 60' they built a home in Yorba Linda, and later moved to Anaheim, and then Tustin. He lost Dorothy to cancer in 1987.
William worked for North American-Rockwell for over 20 years in the Satellite and Defense field. William started and owned Atescar, a company that manufactured electronic testing equipment. He later started a second company, Devman, which dealt with the development and manufa-cturing of reflectometer and other components. William holds 5 military patents and 4 private sector patents in the electronic field.
William retired to Paradise from Orange Country 16 years ago. He married Bernie Rogers in 1988 and finished building his dream house on Buschmann Road. William and Bernie have enjoyed experiencing nature from their very own porch, tinkering in the shop, traveling in their motor home, and visiting with friends and family.
William, 86 years old, died with his devoted wife, Bernie, at his side. William had suffered a stroke on July 2, 2002. He is survived by 4 or his 6 children and their spouses; Donna Beeson of Ventura, Derrald Pick of Lake of the Pines, Judy Pick of San Jose, and Verne Pick of Vancouver, WA. William has 2 granddaughters, 12 grandsons and 9 great grand-children. William is also survived by 5 of his 7 younger brothers and sisters and their families.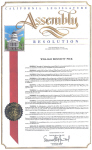 Congressional Recognition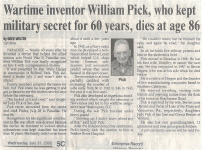 Wartime inventor William Pick, who kept secret for 60 years, dies at ago 86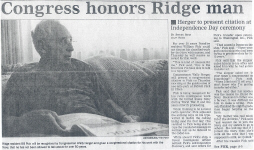 Congress honors
Ridge man.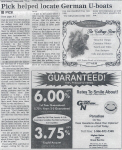 Pick helped locate German U-boats.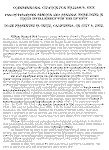 Congressional Citation for William B Pick for outstanding services and original work done in the radio intelligence for the US Navy.